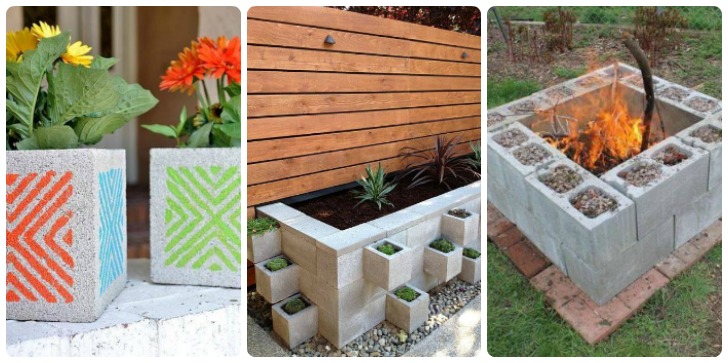 Before seeing these pictures, we assumed cinder blocks were best used for keeping that old beat up car without wheels off the ground. But now that we've seen these cinder block outdoor crafts, we have completely changed our minds! Often times you can find cinder blocks on local yard sale sites for super cheap. And if you don't feel like searching there, you can find them at a hardware store for about $1.00 – $2.00 depending on the size you're looking for. Considering wood and other building materials can be a lot more expensive, cinder blocks might be the best and most inexpensive way to update your backyard living space without breaking the bank. Check out these 10 cinder block garden ideas:
1. Large Planter Box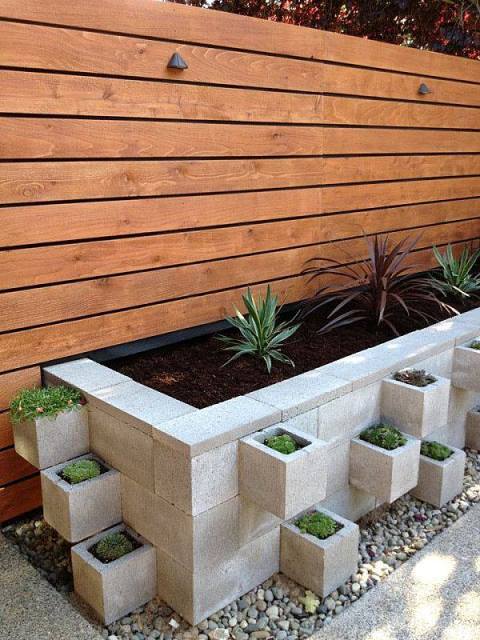 By stacking up cinder blocks in this pattern, you get a lot of planter box space both inside the larger area, but the outside blocks are also a great place to grow succulents.
---
2. Patio Set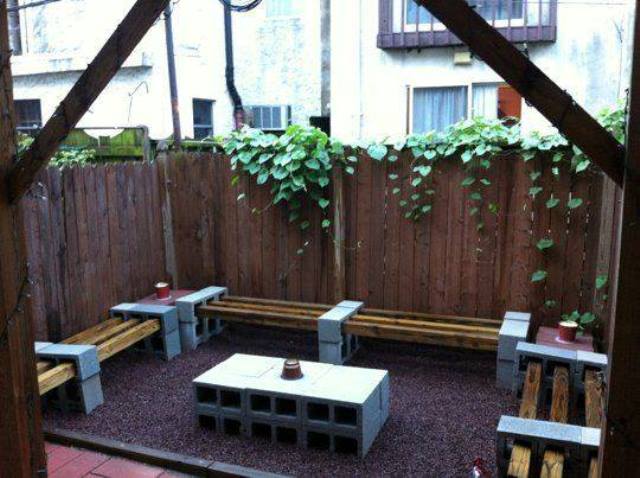 By using cinder blocks along with pieces of wood, you can thread the wood through the holes in the blocks, providing ample places to sit. To add another level of cosiness, you can also add cushions and pillows to these seats. Did you notice the table in the middle is also made of cinder blocks?
---
3. Succulent Garden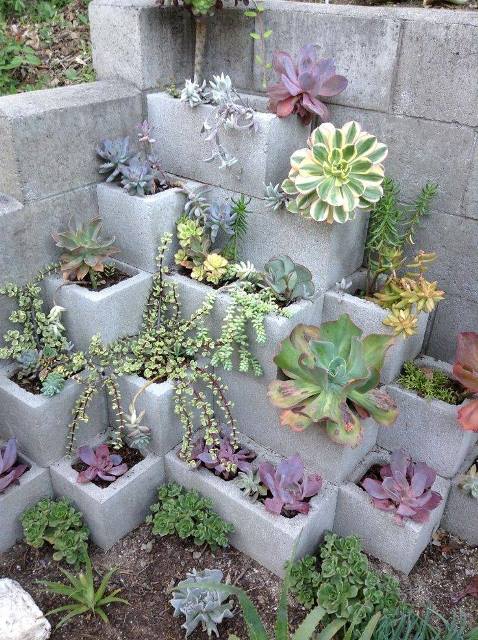 If you have a spare corner in your yard where you just aren't sure what to put there, this succulent garden is the perfect idea. Succulents are very low maintenance, and when done right can create a beautiful garden with very little upkeep.
---
4. Backyard Bench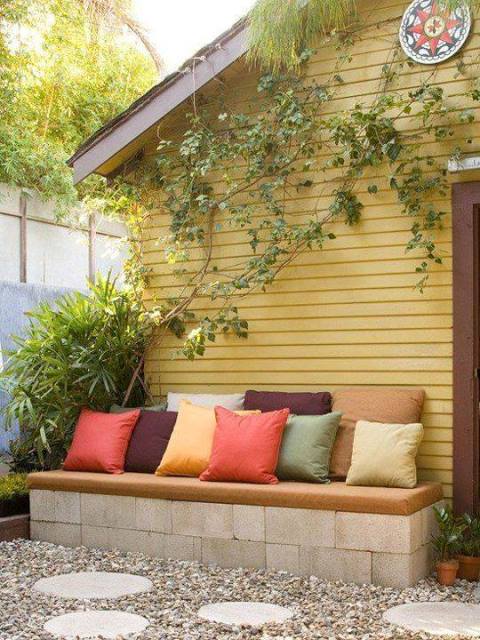 With this easy backyard bench, it's sturdy and very comfortable once you add pillows and a cushion. Plus if you have a spare wall, you don't have to worry about back support.
---
5. Painted Planters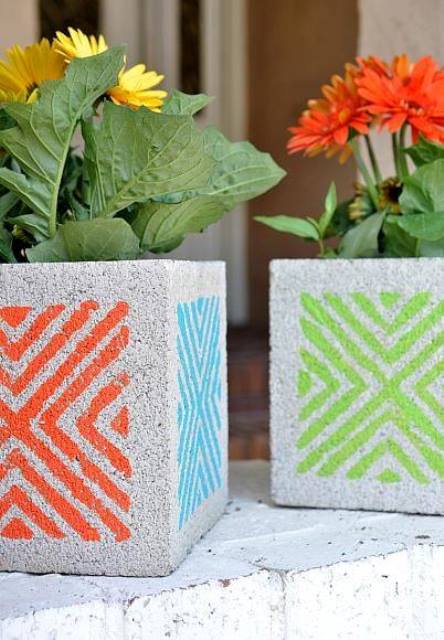 These painted cinder block planters are sure to brighten up any outdoor living space. Paint the outside with whatever design you choose, fill with potting soil, then plant your favorite annuals and enjoy your new outdoor sanctuary.
---
6. Steps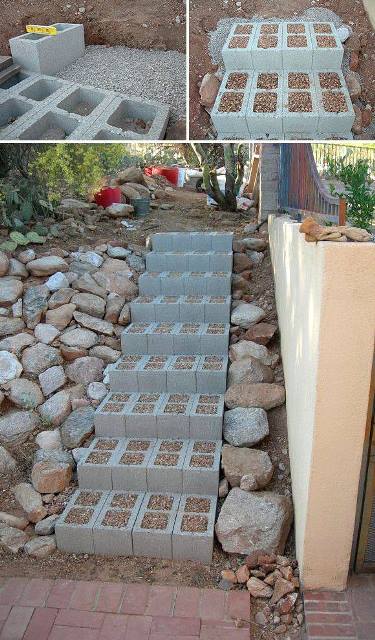 Build outdoor steps with cinder blocks, then fill in the holes with small pebbles to ensure nobody sprains an ankle by tripping on one of the holes. They added 9 stairs total with 4 cinder blocks each. This would cost them anywhere from $36.00 – $72.00, if they had the small pebbles on hand.
---
7. Garden Tower
By mixing and matching different sizes of cinder blocks, you can create any design that will fit in your backyard living space. If you put a little piece of wood or plastic in the bottom of the cinder block, just fill with potting soil and add your favorite plants.
---
8. Fire Pit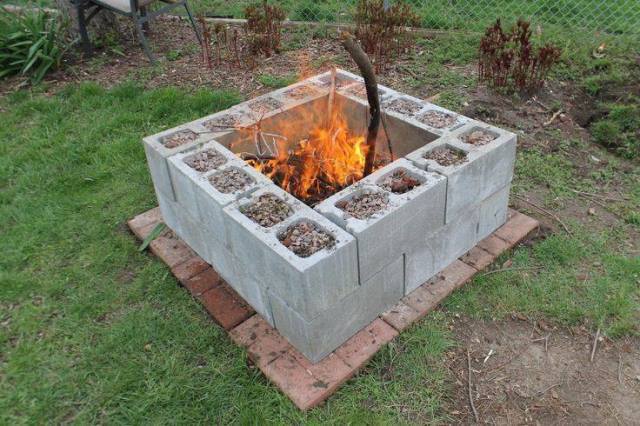 This fire pit is very easy to make and you don't have to worry about any of it burning down. Make a flat surface either using a cement pad that you already have or lay large tiles down to create this surface. From there, you can stack the cinder blocks and fill in the holes with small pebbles.
---
9. Seating Area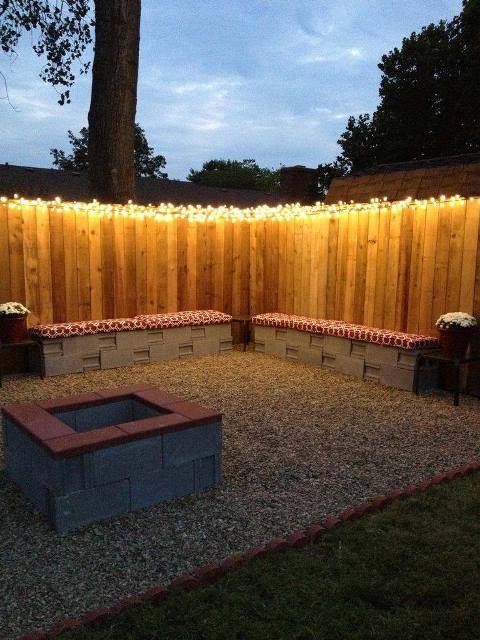 By filling up a small area with small rocks for flooring, adding cinder block benches, and a cinder block fire pit you can create a relaxing entertainment space for a lot less than patio furniture that you'll find at the store.
---
10. Backyard Candle Holder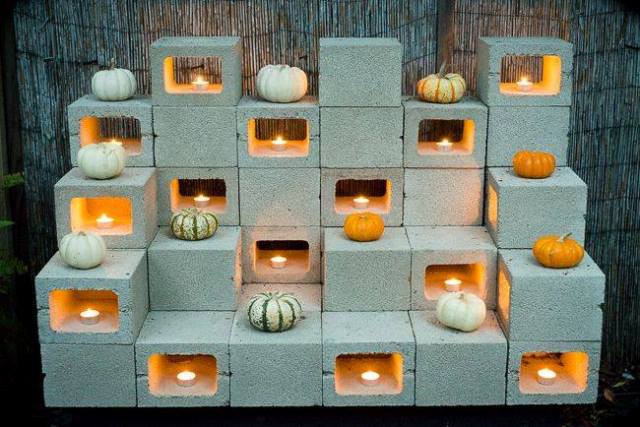 This candle holder can be made with as few or as many cinder blocks as you'd like, depending on the amount of space you have available. This idea is great if you entertain regularly. It gives your backyard an luminescent glow without having to be near a plug.