Checkout 15 best pergola plants for your garden. These climbing plants for pergolas and arbors can also be grown in small gardens easily.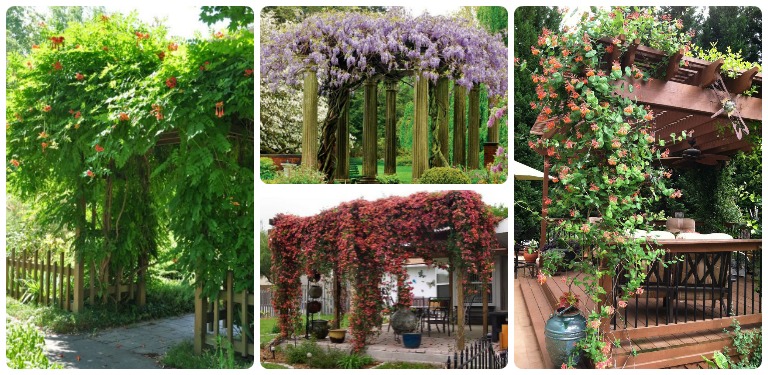 There are so many climbing plants that can be guided over a pergola to get a welcome shade in warm weather. For your help, here we have listed 15 best pergola plants. This list is a combination of both tropical and temperate vines.
Best Pergola Plants
Rose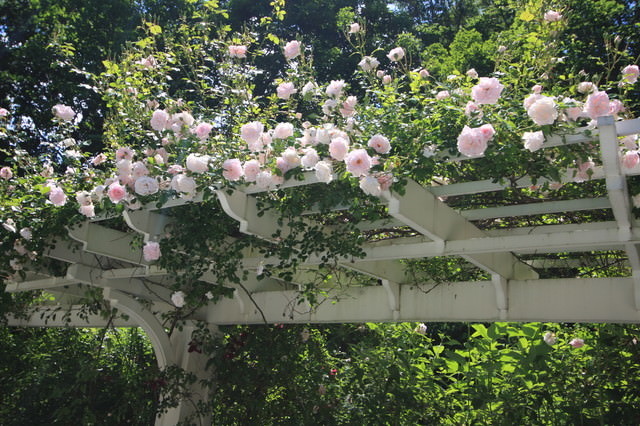 Roses are classic. They are the favorite plants of most gardeners as they produce a feeling of being special, tranquility, nostalgia, romance, and happiness. Climbing varieties are perfect to cover a pergola and arches.
Clematis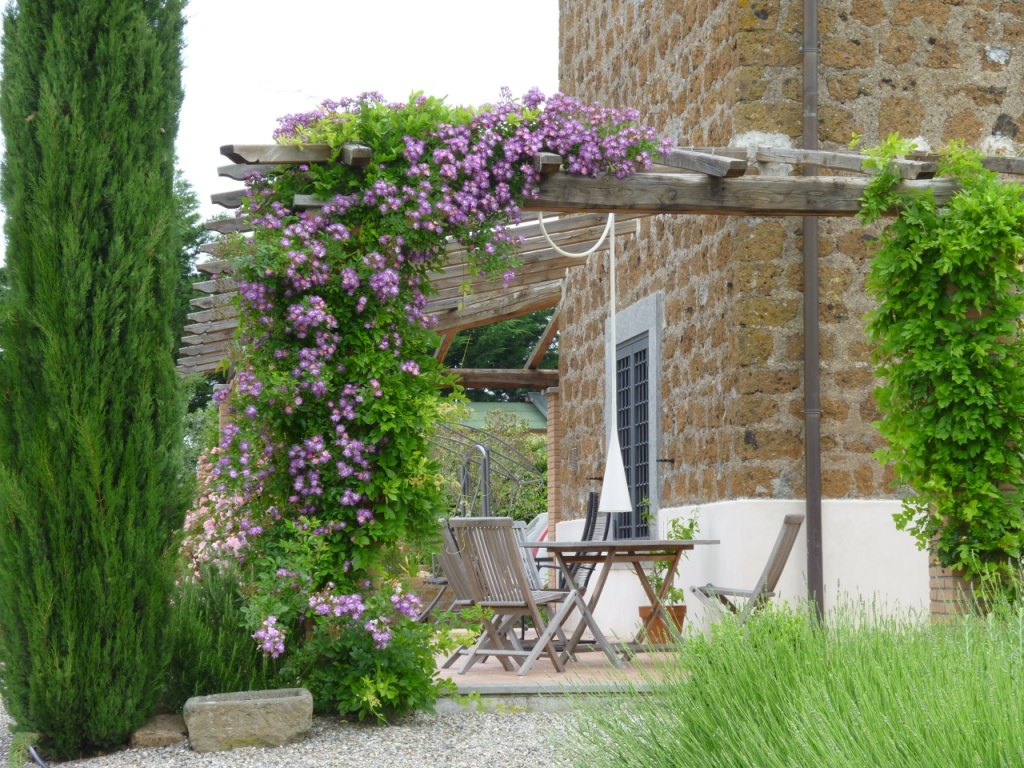 Surely, one of the best pergola plants. Clematis is a spectacular vine as it blooms abundantly, flowering usually starts from spring. You can grow it easily and combine with other plants, especially with climbing roses to get a more exquisite view.
Honeysuckle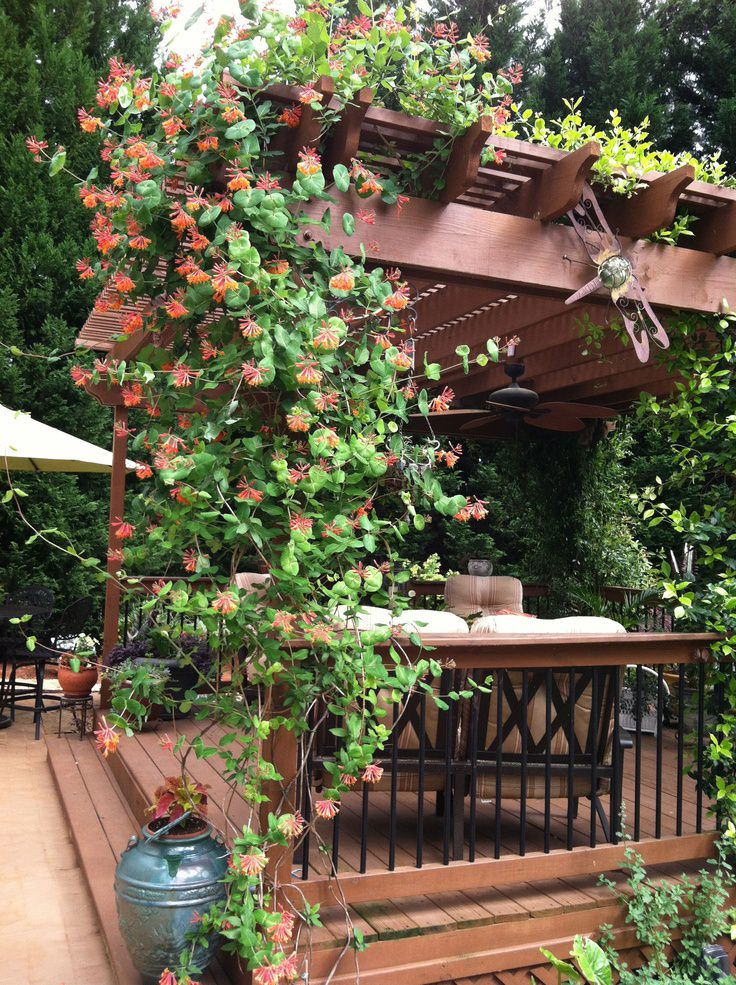 The fragrance of honeysuckle flowers is nostalgic and multiplies when dusk sets. It has more than 180 different species, almost all are creepers. It is a very large vine that grows rapidly, a single honeysuckle plant can cover up a big sturdy pergola easily.
Passion Flower (Passiflora)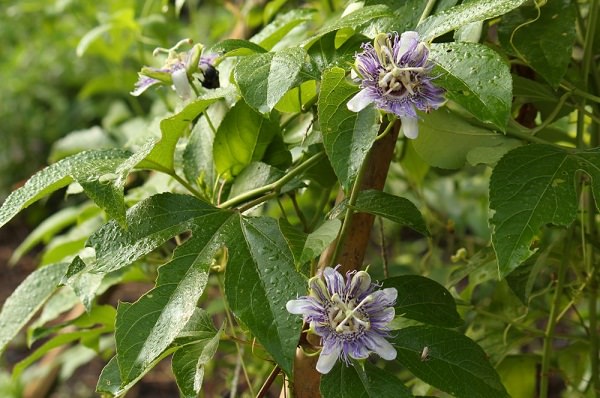 Passion flower is a beautiful fast growing, hardy perennial in tropics. The heady fragrance, colorful flowers, and edible fruits make it one of most desirable climbing plant you can have in your garden. You can also grow it on your balcony, rooftop or patio garden. Growing passion flower is easy if you live in the subtropical or tropical climate (USDA Zone 8 – 11). If you live in the temperate region then look for its cold hardy cultivars. In very cool climate you can grow it as annual.
Jasmine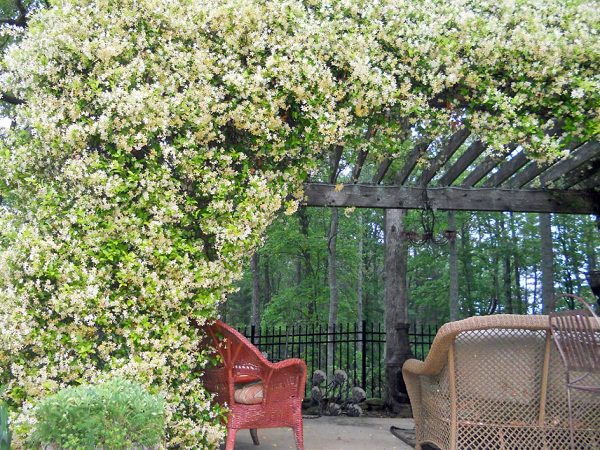 Surely, jasmine is the most intense flower. Its fragrance can be smelt from far-far away. So if you love fragrant plants, grow it. In warm and humid climates jasmine blooms year round. In cooler zones, grow it as annual.
Grape Vine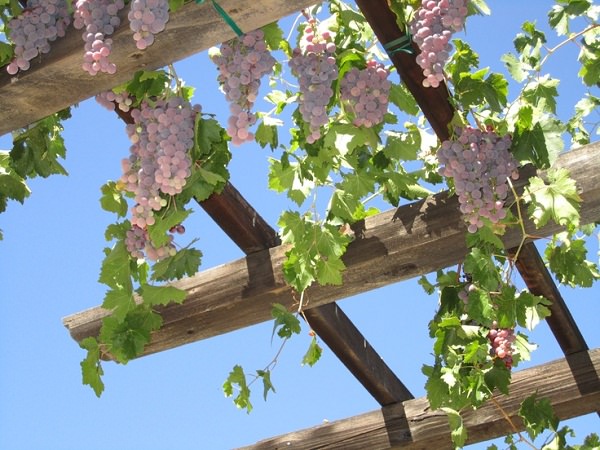 Truly one of the best climbing plants for pergolas, grape vine will not only give shade and a warm sitting place but juicy grapefruits too. You can grow this in a variety of climates. Grapevine varieties are native to Mediterranean, Central Asia, America and South West Asia, thus cultivars available diversely. Here's an interesting article on training grapevine on arbor, which you can read.
Wisteria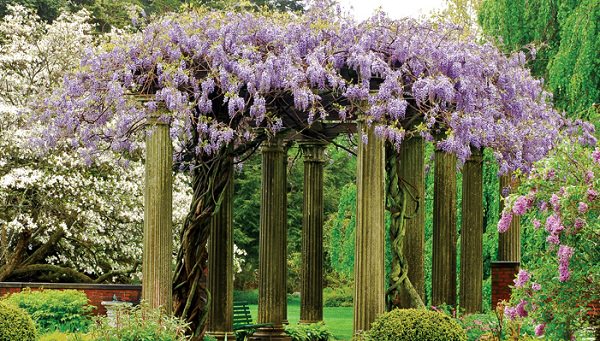 Lavender blue color of wisteria flowers and the sweet fragrance is fascinating. However, wisteria is an aggressive grower but it takes the time to establish. You can grow wisteria in temperate and subtropical regions (USDA Zones 4 – 9). If you have a large sturdy pergola grow wisteria on it, you'll need to prune regularly to control its growth.
Trumpet Vine (Campsis radicans)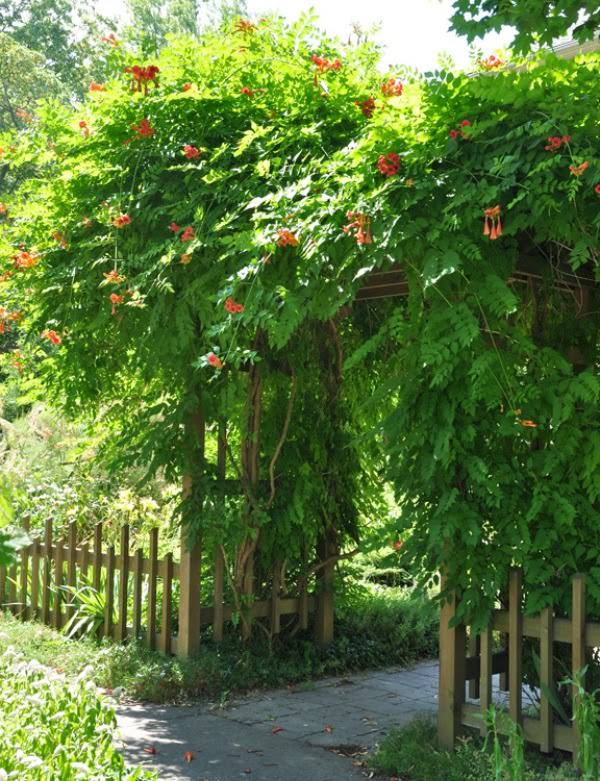 Due to its showy trumpet-shaped flowers, it is called trumpet vine. Each of trumpet vine flowers can appear in different colors (orange, yellow or red). The flowers attract pollinators: bees, and hummingbirds. This plant looks great on the arches, pergolas, and trellises. It grows best in full sun to part sun.
Bignonia (Cross Vine)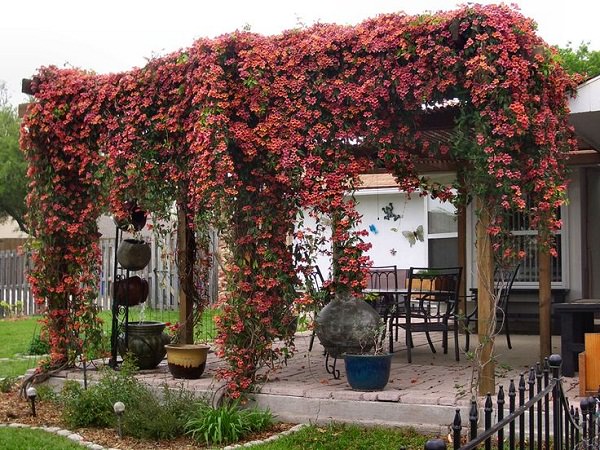 Another beautiful climber, related to trumpet vine. Its delicate bell-shaped flowers look great on pergolas. It is a fairly vigorous plant and tolerates mild to moderate frost, grows best in USDA Zones (6 – 9). You can also try growing it in tropics (Zone 10) in shade from afternoon sun.
Ivy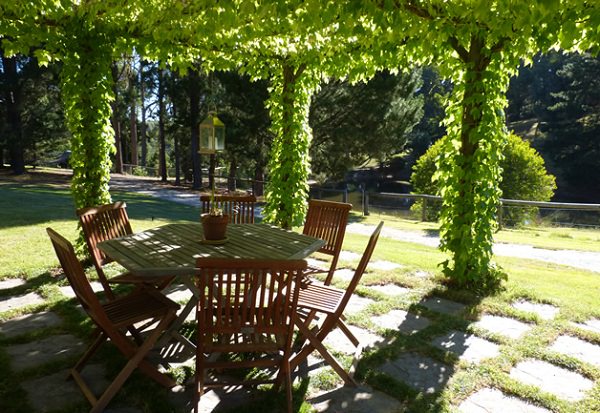 For the arbors, pergolas, and gazebos situated in shade, ivy is best. It is low maintenance and tolerates the exploits of weather and provides lush green color. You can also choose variegated varieties.
Bougainvillea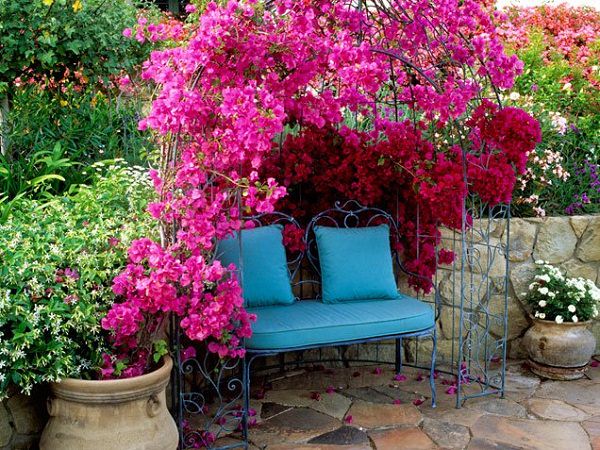 The climbing varieties of bougainvillea are suitable for the pergolas. This plant loves the sunny position and does not like wet feet. Among the most frequently cultivated colors are pink, red, yellow and purple but it comes in many other colors too.
Morning glory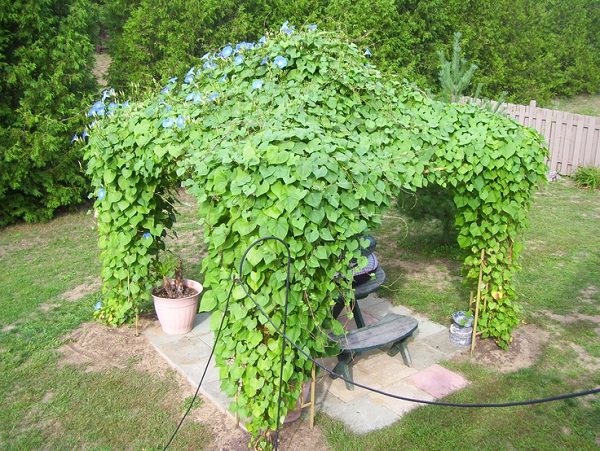 A vine that greets the morning sun with its pretty blooms. Morning glory vine is fairly easy to grow and it perks up quickly. A good plant to cover up a pergola that is in a sunny position.
Butterfly Pea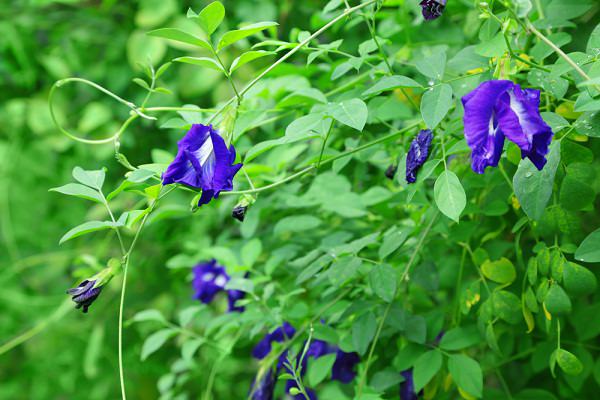 Butterfly pea flowers are the best food source for butterflies. It is a legume and both flowers and seed pods are edible. The most attractive thing about butterfly pea vine is its shiny deep blue flowers. Butterfly pea is a tropical vine and grows best in USDA Zones 10 and 11. In a cold temperate zone, grow this perennial as annual.
Golden Hops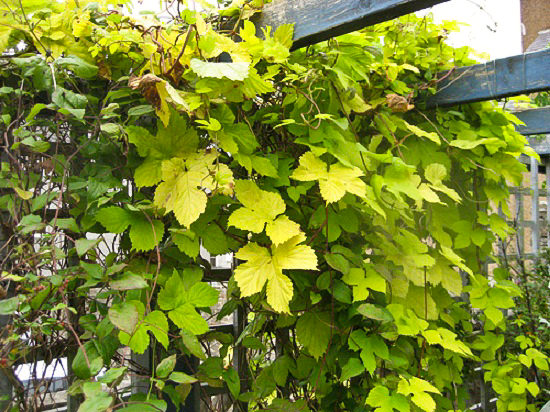 A fast growing vine that quickly covers up the trellises, pergolas, and arches. Golden hops can grow up to 8 m long without any difficulty. What makes it beautiful is its lime green or yellowish foliage. It is a low maintenance cold hardy vine (USDA Zones 4 – 8), not suitable for warm climates.
Climbing Hydrangea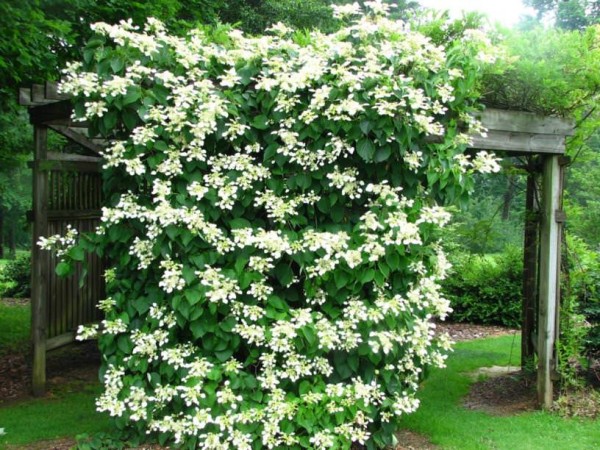 Growing climbing hydrangea vine is rewarding due to its glossy heart-shaped foliage and fragrant white flowers that appear in clusters in spring to summer. It is a slow grower and requires training and pruning. You can grow climbing hydrangea if you live in the colder region within USDA Zones 5 – 8.