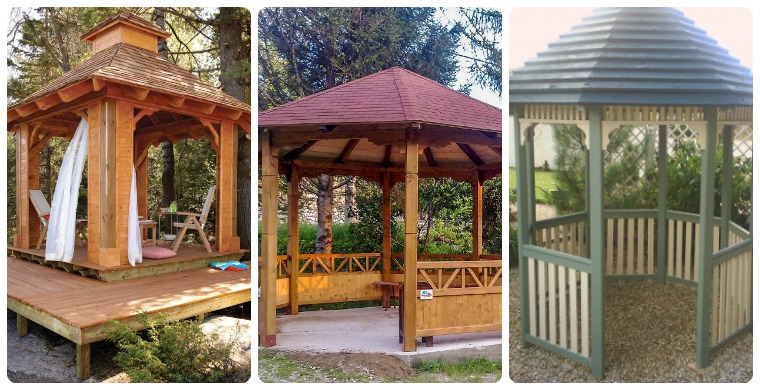 The word "gazebo" springs to most people's mind an octagonal white garden building at the end of a long sweep of lawn. Although many gazebos do fit this traditional gingerbread-trimmed image, today's versions are just as likely to be square, rectangular, or round; have sleek lines; and sit close to the house, to encourage outdoor dining. They can even be built right into a porch or onto a deck, patio, or pool surround.
The gazebo's ancestry can be traced back to ancient Japanese teahouses, Chinese garden shelters, and small buildings the Dutch built beside their canals. Some historians believe that the term gazebo (ga-zay-bo), which came into use in the 1700s to describe garden viewing pavilions, may be the result of a linguistic joke, in which "gaze" was altered to make it sound more Latin. Designer and draftsman Peter Joel Harrison relates another version of the word's origin in his pattern book Gazebos and Trellises: Authentic Details for Design and Restoration (about $50; Amazon). The story goes that at a garden party in 18th-century England, where all things French were in vogue, a guest remarked of the hostess's small teahouse, "Ça, c'est beau!" The Englishwoman then whispered to her friends that the fashionable term for her new teahouse was "gazebo."
Use free gazebo plans to build an outdoor living area to relax and enjoy. An outdoor gazebo is an easy and stylish way to add outdoor living space and value to your home. Unfortunately, many home owners overlook the valuable outdoor asset due to the stereotypical image of the backyard gazebo from yesteryear at their grandparent's home and their desire to have a more modern and updated look for their landscape.
The traditional octagon-shaped structure at the end of garden path or beside a landscaped pond can still be built and enjoyed, but there are many other gazebo ideas to choose from and one of them will fit perfectly into your landscape. The easy to build structures that provide outdoor shade don't even have to be built in the landscape, they can be incorporated into the design of a patio or deck.
If you're considering adding a gazebo to your outdoor living space, look at this DIY video and also take a look at these 7 DIY ideas that will inspire you and provide you with the instructions on how to build a gazebo.
1. Wooden Gazebo Plans
Step by step written building plans as well as step by step photos of this wooden gazebo building project make it an easy DIY build. This outdoor structure will increase your property value, provide shaded outdoor living space and make your landscape more eye-appealing.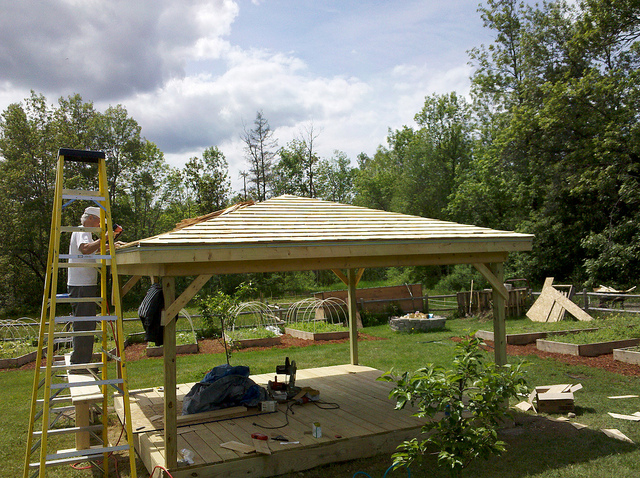 ---
2. Octagon Gazebo
Traditional, classic style of the octagon gazebo will enhance your backyard and provide you with a shaded and breezy outdoor location for dining, napping or otherwise enjoying the great outdoors.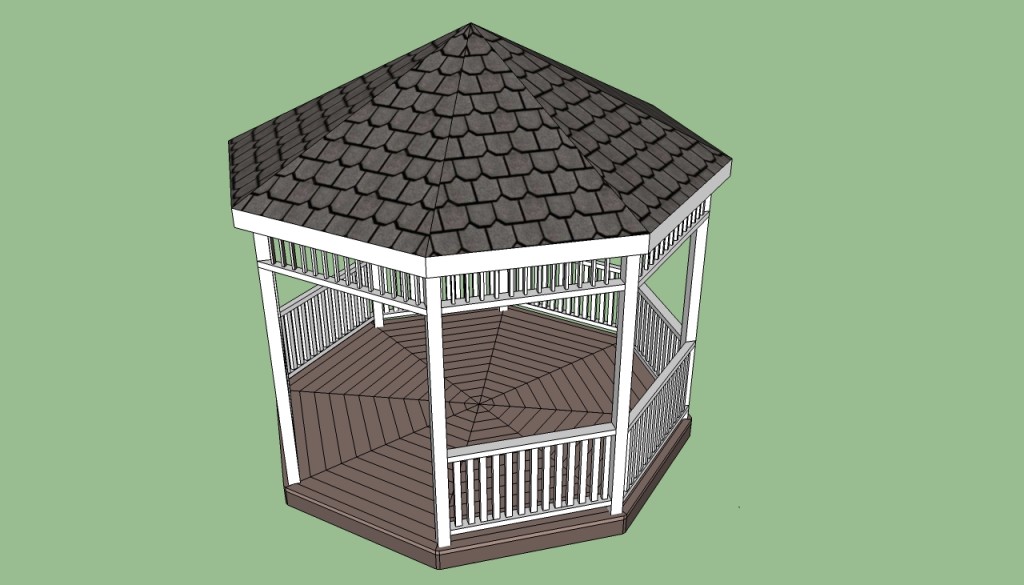 ---
3. Large Oasis
When it's time to go big or go home, these DIY plans for a large gazebo oasis will be a good choice. Plenty of room for potted plants, tables and seating, this wooden gazebo is built up high enough so you can enjoy the view of your landscape from every angle.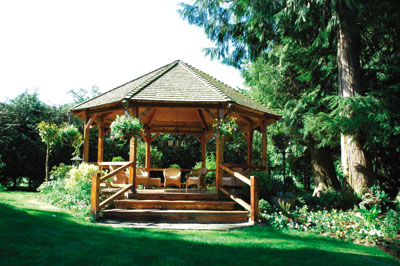 ---
4. Small Retreat
Use these DIY building plans to create a small gazebo retreat in the middle of your backyard. Perfect size for enjoying morning coffee or a relaxing glass of wine in the evening with that special someone in your life.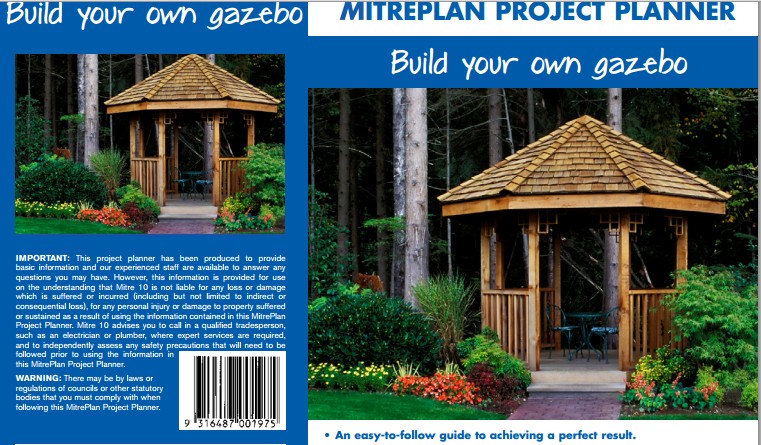 ---
5. Redwood Gazebo Plans
Long-lasting and easy to work with, redwood is an excellent choice of wood for building a wooden gazebo.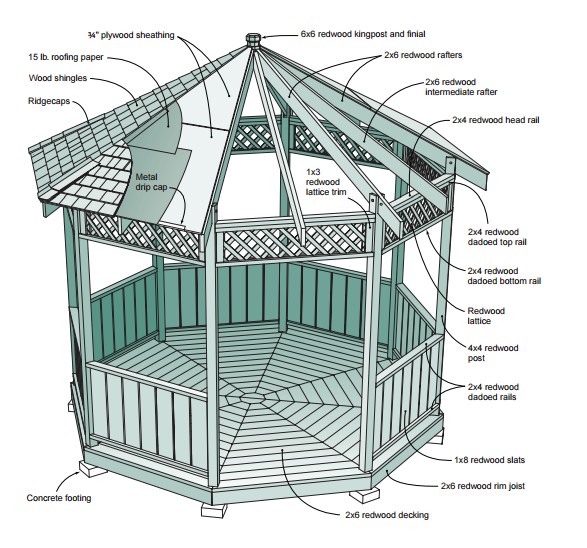 ---
6. Octagon Plans
These DIY building plans will provide you with a cost effective 8-foot octagon gazebo that will enhance the beauty of any size backyard.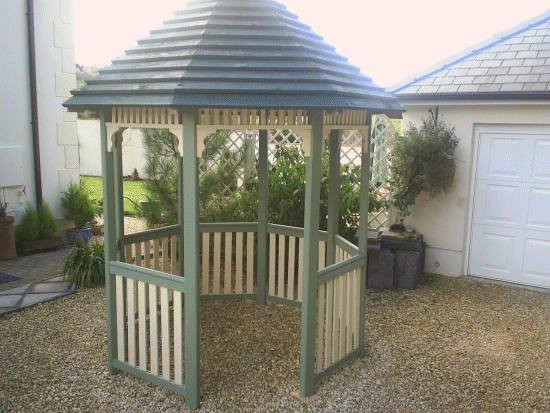 ---
7. Free Gazebo Plans
Free building plans for the downloading, this wooden gazebo is perfect for as a stand-alone structure, or would be great for creating a patio gazebo or deck gazebo.