Many urban dwellers have ditched the gas guzzler in favor of a more practical means of transportation – a bicycle. So you're saving money on gas, getting around the city much more efficiently, but you're faced with yet another challenge. Where in the hell are you going to store your bike? Living downtown in that small apartment is great, but it definitely lacks when it comes to storage space. Thankfully there are an abundance of space saving bike racks out there just waiting to be installed in your household. Some of you are lucky enough to have a garage to store your 2 wheeled counterpart, but for the rest of us, here is a list of several space saving bike racks.
SHOES, BOOKS AND A BIKE SHELF
Designed by Thomas Walde, this product of Switzerland gives you a that much needed bike rack while also offering a decorative piece of furniture that doubles as a bookshelf. There is space for books, shoes, and really anything else you'd like to throw on there.
---
THE ORIGINAL BIKE SHELF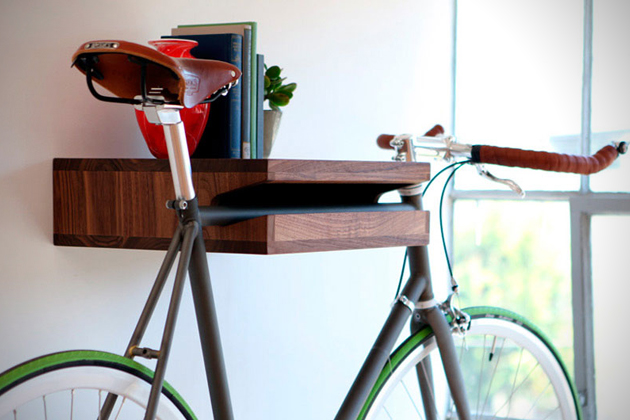 Handmade in San Francisco from a solid piece of either black walnut or ash wood, this beautifully crafted bike rack mounts to wall studs, and comes with a mini shelf atop the rack for storing loose change, books, car keys, etc.
---
HUNTING TROPHIES BIKE RACKS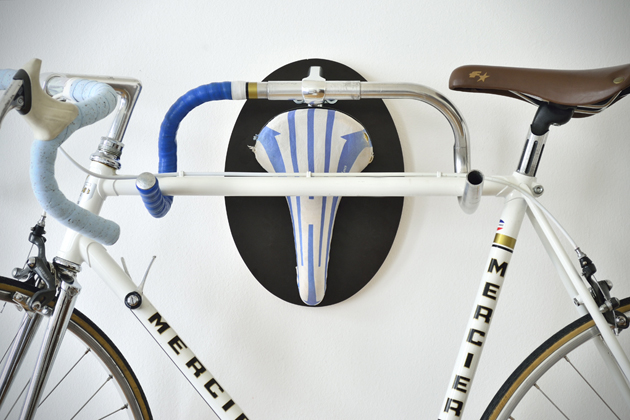 Designed to replicate typical animal hunting trophies hanging from the walls, these bicycle racks were created by Australia based designer Andreas Schieger. The racks are part of his "Upcycle Fetish" project inspired by Pablo Picasso, and are built entirely from recycled bicycle parts.
---
MAMA WALL MOUNTED BIKE RACK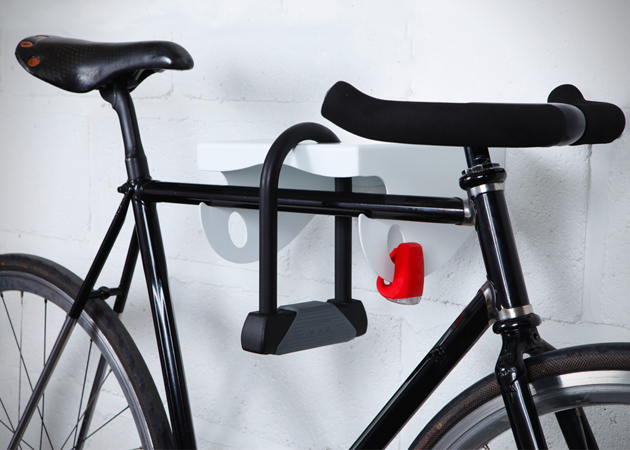 Designed as a collaboration project between furniture designer Matt Elton and graphic designer Matteo Balderelli, this bike rack comes complete with three storage holes, created specifically for storing your U-lock and cables.
---
KAPPO BICYCLE STORAGE SOLUTION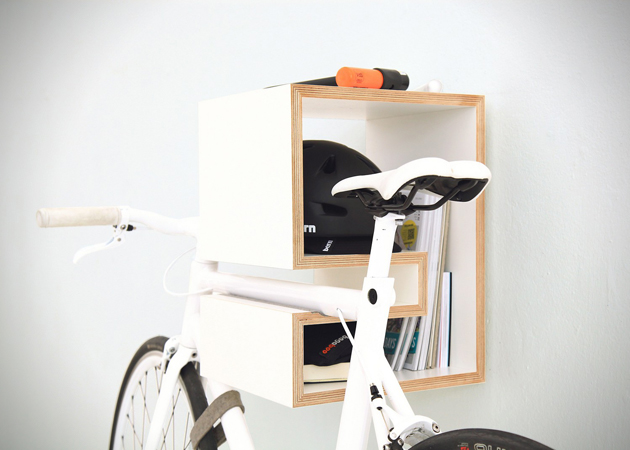 This elegant storage solution was designed by Berlin based Mikili, and also incorporates a small shelving unit for holding your misc items in addition to putting your 2 wheeled companion on display. This wall mounted bike rack incorporates both form and function.
---
DUAL STAIRCASE BIKE STORAGE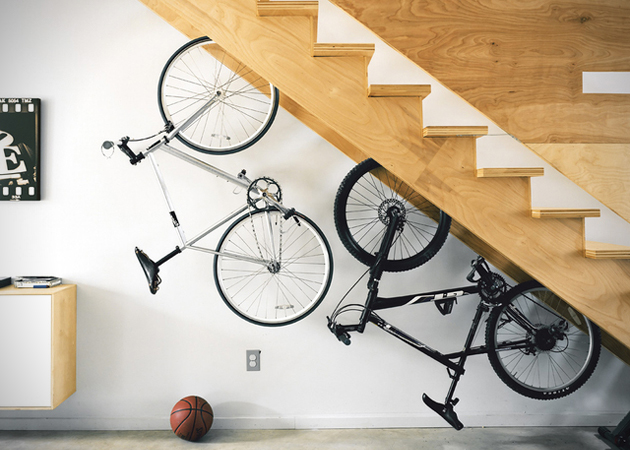 If you're lucky enough to have yourself a set of stairs in your small space (not everyone does of course), this could be a great DIY project to tackle in your spare time. There is plenty of room to store 2 bicycles under an average set of stairs
---
BOOKBIKE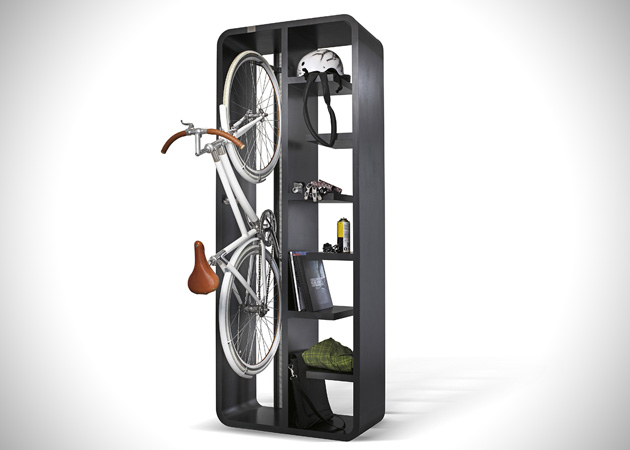 Unlike the previously featured bookshelf bike rack, this offering utilizes a vertical design as opposed to a horizontal one, making it better for small spaces. The Bookbike was designed by BYografia, and can be adjusted to fit any size bicycle, while still providing plenty of storage on the right hand side for your personal belongings.
---
DELTA MICHELANGELO TWO-BIKE GRAVITY STAND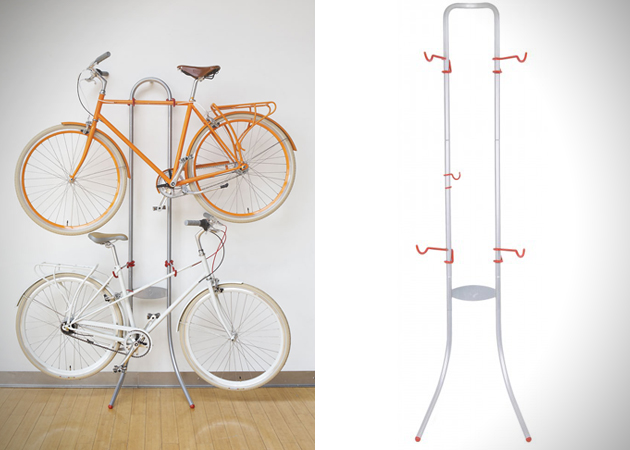 If you have two bikes instead of one, the Delta Michelangelo bike rack is the perfect solution. The best part is that you don't have to drill any holes in the wall (great if you're renting), and you can easily move this thing for cleaning and relocation.
---
BRANCHLINE BIKE RACK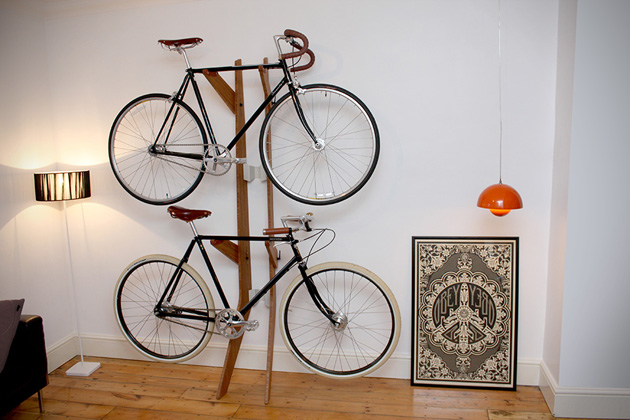 Considering many urban dwellers have more than one bike, we thought it was only right to end the list with another piece designed just for 2 bicycles. Crafted from sustainably sourced bamboo in England, each and every frame is hand finished in leather, bringing a sophisticated look to any room in your home. The Branchline features two completely adjustable sets of arms, and leans gently against the wall.
---
CUSTOM DIY BIKE RACK STORAGE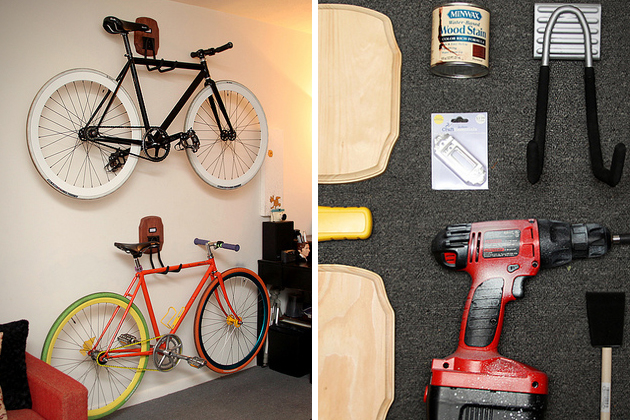 Some people don't like buying "pre-made" stuff like bike racks. They prefer to get their hands dirty, save themselves a few bucks, and do it themselves. This is for those people. With a small list of items including hooks, spray paint, book tags, wood stain, drill, stud finder, hammer, nails, level, and some measuring tape, you're ready to rock and roll.