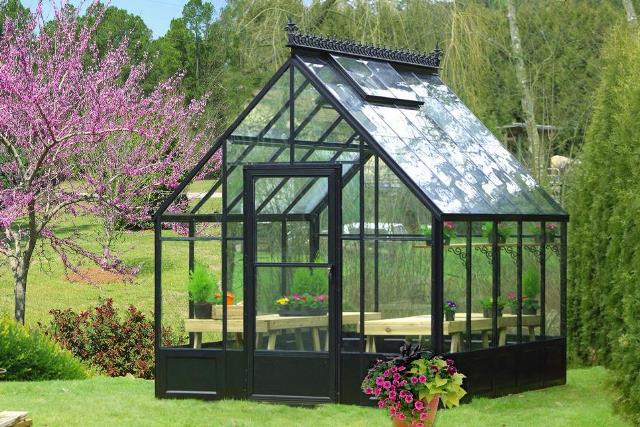 Do you like the idea of being able to extend your growing season? What about having a great space to start seeds a little earlier?
Then you need a greenhouse!
They are a great addition to any homestead. Any expense you accrue in building one can quickly be made back with the extra product they help produce.
1. The San Juan Greenhouse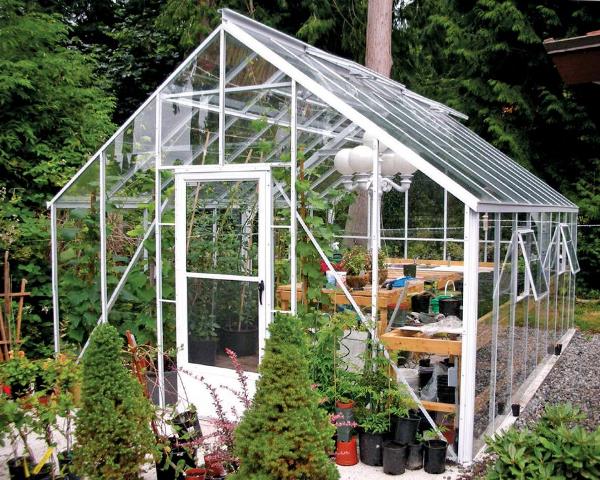 Greenhouses are no longer just for growing plants and are now being enjoyed by homeowners as garden retreats, artist studios, exterior living rooms and architectural showpieces. The SolarGro San Juan Greenhouse, for example, has all the attributes of a nature conservatory but can serve many other purposes with its 12 by 16 foot all glass structure with auto roof vents.
2. The English Orion Greenhouse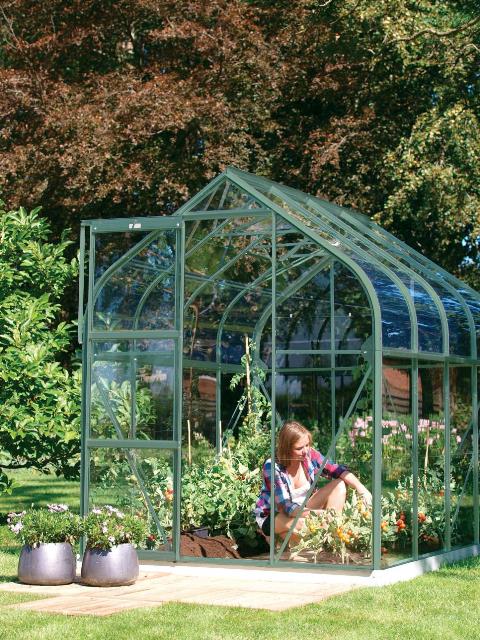 Perfect for small spaces or as a starter greenhouse, The 6 x 8 foot English Orion model combines a stylish design with durability and comes with the tallest door in its class. The powder-coated green frame blends in perfectly with any garden setting.
3. The Cape Cod Parkside greenhouse
One of the more popular styles available, the 8 x 12 foot Cape Cod Parkside greenhouse has an extra strong aluminum framework and maintenance free enamel finish along with automatic ventilation that allows hot, stale air to escape.
4. Interior Luxury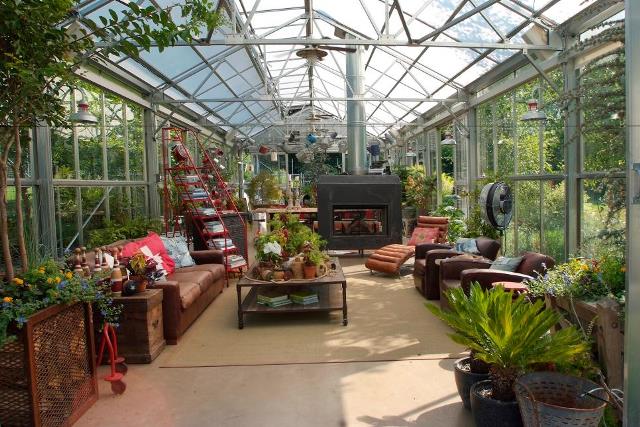 This inside view of the Groundswell Design Group's glass greenhouse shows how radiant heating in the floor allows the homeowners to enjoy the room year round.
5. Washington State Cedar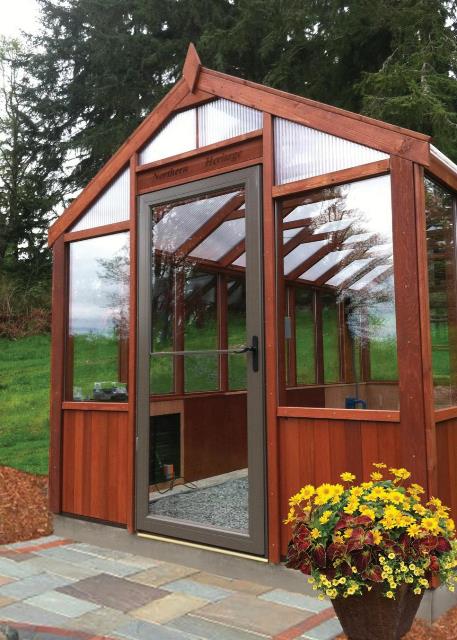 The Northern Heritage greenhouse offers gardeners the beauty, warmth and natural ambience of a solid cedar conservatory. The 8 x 16 foot structure features a high peak roof which allows summer heat to rise and easily sheds snow in the winter. The red cedar frame, made in Washington State, is insect resistant and easy to assemble for the DIY gardener.
6. The Estate Providence greenhouse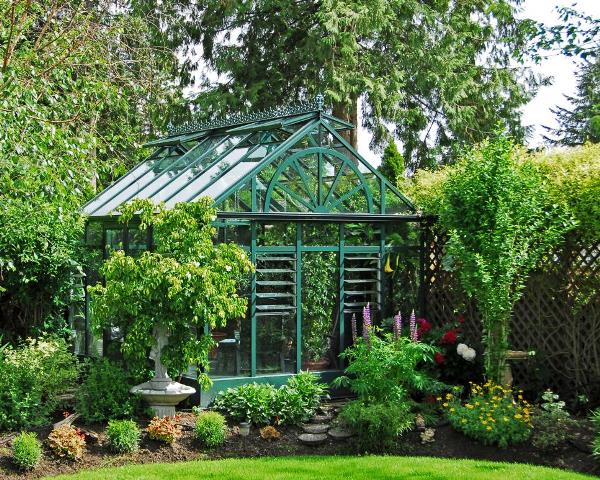 Whether you want your own little private garden getaway or a place to grow and nurture orchids, the 10 x 12 foot Estate Providence greenhouse is an appealing option with its wagon wheel and ridge cresting.
7. The Lean-To Look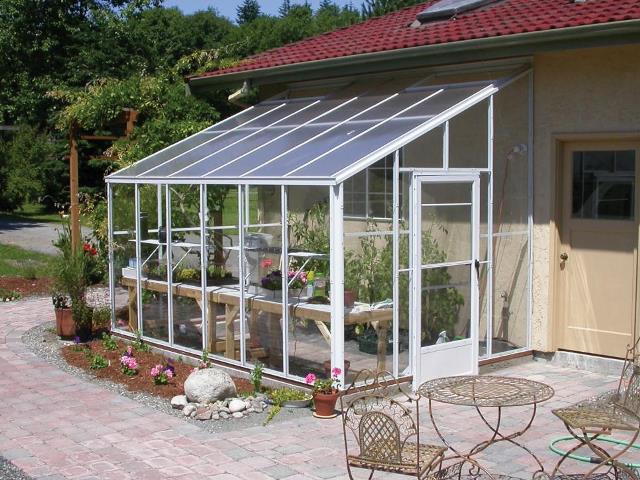 The 6 x 12 foot Dover Home-Attached greenhouse is a traditional lean-to structure whose straight eave compliments most homes. The glazing is clear tempered safety glass, the frame is rustproof and maintenance-free and it stands up to high winds and heavy snowfall.
8. Big and Wide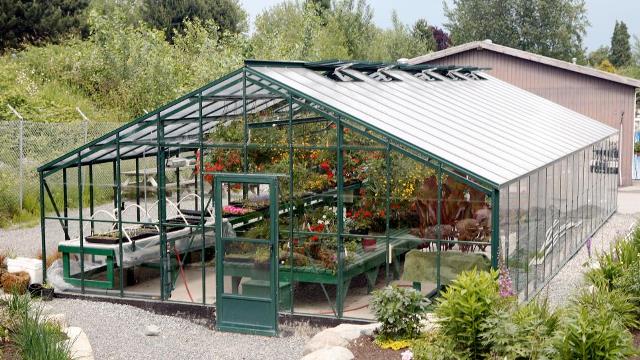 For the serious greenhouse gardener, it's hard to beat the 20 x 40 foot SolarGro Cascadia greenhouse with its clear tempered safety glass which is impervious to weather and the TwinWall roof which is made of lightweight polycarbonate and is known for its insulation strength.
9. Glass Artistry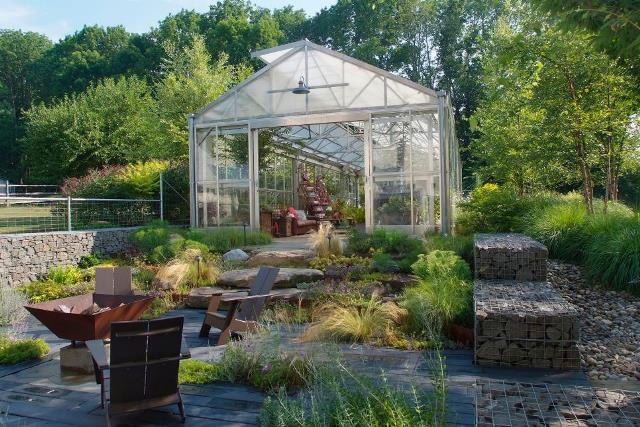 This spacious greenhouse, designed by Groundswell Design Group, embraces both indoor and outdoor living with its custom-made fire pit leading up to the airy and elegant glass framework.
10. The English Jupiter greenhouse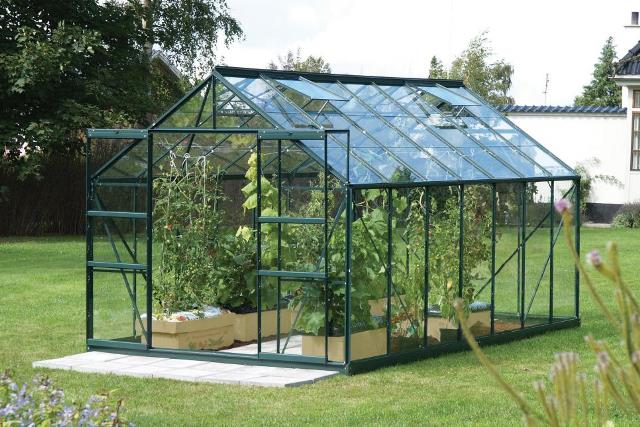 For its price range, the 8 x 14 foot English Jupiter greenhouse offers multi-functionality and a handsome design which is available in green or black powder-coat or a clear anodized finish (a process that keeps aluminum looking pristine for a longer time period).
11. The Cascadia Rainier greenhouse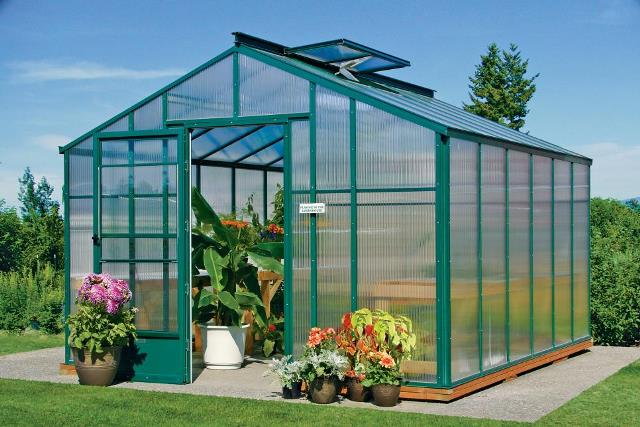 If your plants prefer temperatures above 55 degrees Fahrenheit throughout the winter, the 5-Wall polycarbonate glazing on the Cascadia Rainer greenhouse will provide significant energy savings for you. With sidewalls nearly 6 feet high, there is more space for plant shelves and hanging baskets.
All images are courtesy of Charley's Greenhouse