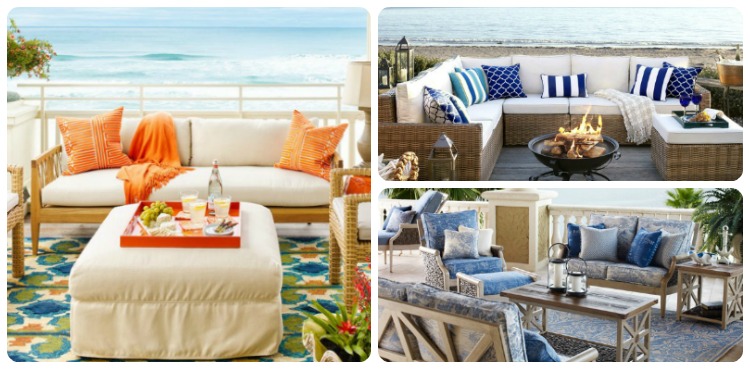 The inspiration for the design and decoration of your yard, porch, balcony or terrace can be found at every turn …
Whichever style you choose, you can find plenty of solutions or you can come up with something very personal, which will fit you. One thing is certain – enjoying the outdoors is a main activity at good weather. Do not afford to spend a year inside because you haven't arranged your terrace. For starters, look at our current gallery that will inspire you to work, and then roll up your sleeves and get with it!
Is there a better way to enjoy the view of the beach, from lying on the comfortable terrace or porch? Nothing will bring more powerful and intense energy of the oceans and seas, than overlooking the open sea and nautical-inspired decorations.
If you belong to a group of people that frequently call their friends and family to socialize, then you will like this text a lot. With a little hard work, you will find that you can create an environment that is ideal for soaking up the sun's rays during the day and the heat of fire during the night in your yard. With a good planning of the furniture, decorations, materials, sitting area, accessories and entertainment, creating such an environment will be easy to perform.
This time, we present our 20 favorite sea-like decorated exteriors, which will surely inspire you enough to start your project. The courtyard-style beach, with bohemian elements, often seen as an extension of your interior space, which is achieved by a simple color matching and "erasing" the line that divides the space.
Use turquoise accents and an assortment of fabrics in various shades of blue on a cream and white backgrounds. Add bronze lamps and chandeliers above the tables of teak wood. Dedicate the creation of paths leading to and from your room to enjoy, especially if you have a barbecue or fireplace in the open. Add al-fresco kitchen and dining room, where you will want to enjoy every day. With a few pieces of furniture, you can create your lodge in the open, to absorb positive energy.
Whether you have a terrace, garden, porch, balcony or the pool, you will find your inspiration and a way to take full advantage of the potential of your area in our gallery. For starters, make your favorite drink, sit back and take a good look at every image in our gallery. For this you need a lot of time because you will be simply hypnotized from some of them.