The Witcher 3: Wild Hunt is an action role-playing video game set in an open world environment, developed by Polish video game developer CD Projekt RED. It was released for Microsoft Windows, PlayStation 4, and Xbox One on 19 May 2015. The game is the third in the series, preceded by The Witcher and The Witcher 2: Assassins of Kings, which are based on the series of fantasy novels of the same title by the Polish author Andrzej Sapkowski, but all take place after them.
The Witcher 3: Wild Hunt concludes the story of the witcher Geralt of Rivia, the series' protagonist, whose story to date has been covered in the previous versions. Continuing from The Witcher 2, the ones who sought to use Geralt are now gone. Geralt seeks to embark on a new and personal mission, whilst the world order itself is coming to a change. Geralt's new mission comes in dark times as the mysterious and otherworldly army known as the Wild Hunt invades the Northern Kingdoms, leaving only blood soaked earth and fiery ruin in its wake; and it seems the Witcher is the key to stopping their cataclysmic rampage.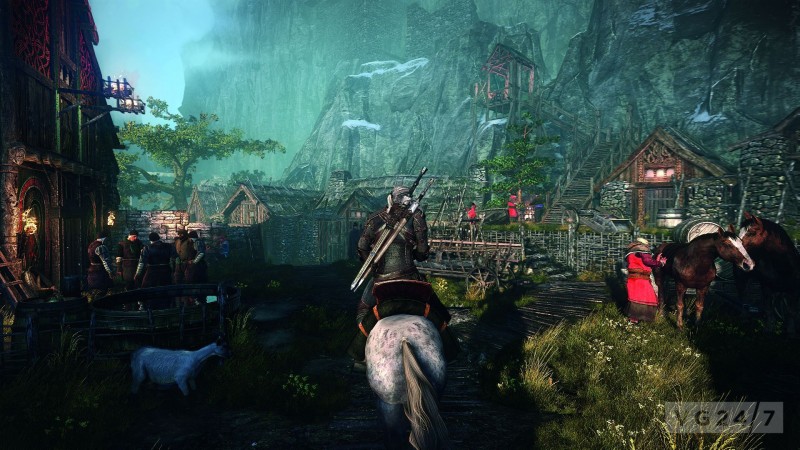 The setting is more than "30 times larger" than previous Witcher games, requiring players to use a sailboat to some locations and ride by horseback to others. However, fast travelling around the areas of known locations is also possible. The Witcher 3 has been described as "20% bigger than Skyrim".
The game features a dynamic day and night system, realistic AI, responsive and dynamic environments. The day and night cycle will influence some monsters and their powers, similar to how a werewolf would gain powers during the night of a full moon. The game also features a dynamic beard growth system, in which the beard of the playable character Geralt will grow when he travels between regions.